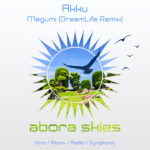 Akku presents Megumi (DreamLife Remix) on Abora Recordings
After the amazing success of the original and emotional releases of Akku's 'Megumi', we now welcome DreamLife to Abora Skies for his own take on the track.
Adding sharper drums and cutting-edge basslines, the Polish producer delivers a new dimension of the breakdown by focusing on the minimalistic side, that ensures to hit the listeners emotionally on first listen.
Also included are an intro edit, a radio edit, and a longer version of the breakdown excerpted as a symphonic mix.
BPM & Key:
Intro Edit / Remix / Radio Edit: 138 bpm – G# Maj (4B)
Symphonic Mix: 128 bpm – G# Maj (4B)
Available From Stores
Worldwide – 23rd Jul 2018
Buy it on: TBA
Tracklist:
Chill Out
Akku – Megumi (DreamLife Symphonic Mix)
Trance
Akku – Megumi (DreamLife Intro Edit)
Akku – Megumi (DreamLife Remix)
Akku – Megumi (DreamLife Radio Edit)
Links: