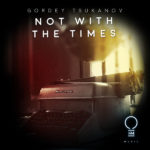 Gordey Tsukanov presents Not With The Times on OHM Music
As an advocate for developing music not bound by the concept of time and modern day pop expectations, Russian DJ/producer Gordey Tsukanov presents his latest work of trance artistry, 'Not With The Times', forthcoming August 17, 2018, on OHM Music.
A virtual whirlwind of dark auditory mystery, 'Not With The Times' seduces the airwaves, overwhelming the senses with a flood of nostalgia as an uplifting rush of classic trance flair mingles with profound deep progression. Are you ready to embark on the journey? First, take a breath.. now close your eyes. Allow the dark melody to cast away all apprehension as you approach the crossroads of actuality and hypnotic state. Which path will you choose?
For the dreamer within us the choice is simple. Choose the way of Gordey Tsukanov and become instantly encapsulated in the ebb and flow of mystical sound expression, delivering his faithful revelers to the precipice of pure euphoric release. As an interpretation of trance in its most honest and inspired design, 'Not With The Times' is a true spectacle to behold!
Buy it on: TBA
Tracklist:
Trance
Gordey Tsukanov – Not With The Times (Extended Mix)
Links: