PT Events presents Grotesque Indoor Festival 300 at Maassilo, Rotterdam, The Netherlands on 9th of December 2017
Grotesque Indoor Festival #300 – Mardi Gras – Tickling your Senses…
Saturday December 9th, PT Events brings the spectacular American Mardi Gras show to the Rotterdam Maassilo for what is already the 8th edition of the Grotesque Indoor Festival. The organization makes a great effort to create the ultimate experience with this versatile but most of all, colorful theme.. Besides Grotesque also the visitors can go to the max to make this memorable…
The courage to keep renewing and the willpower to continuously improvevare the indicators for the organization and for the successful Grotesque Indoor Festival. " Often the magic is created through small, simple acts and events, and yet, those little though striking moments, make it a night to remember", as stated by the organization. Many surprises can be expected at the indoor festival!! What remains the same, is the location. With her mystical character, Maassilo is the ideal base for the Indoor Festival concept…
Maassilo – The Festival feeling: Festival Market, Silent Disco, Lounge, Circus Acts, Art & more
Last year Grotesque focused on the more theatrical side of entertainment. "With new inspiration and last year's positive responses, we're planning to go a step further. Acrobatics, humor and sensation will be the main feeling and vibe in the three areas but also in the corridors, at the festival market or the lounge area! #GIF300 is more than the average club night!" The organization will once again provide funny and free party probs, but of course you can take the theme into consideration yourself with your outfit. With a theme like Mardi Gras Carnival, really nothing will be considered overdone! But if you prefer, you may also come in your own style 🙂
3 areas – Trance – Tech/Psy & Houseclassics
As always, Grotesque will bring you a diverse program. Where obviously the sound of the mainstream Trance can be heard at the main area, the sound of techy en psy trance will have another feel at the second area. The third area this year, is for the House classics theme and off course the silent disco can be found at the festival market. The try-out with extended dj-sets, was appreciated by the Grotesque crowd last year. This, together with an impressive form of entertainment, will create a nonstop 'stimulate your senses' experience! Hereby the complete line-up!





2nd Phase – Adam Seller – Dano – Darren Porter – Fausto – Indecent Noise – Marco V – Mark Sherry – Ram – Renji – Reorder – Santito – Sneijder – Spider – Standerwick – Super8 & Tab – Toyax – Mc da Silva
Grotesque Music presents the Grotesque Radioshow #300
A milestone of 300 radioshows should be celebrated. This will take place traditionally at the Grotesque Indoor Festival. Radiohost and labelboss RAM, will celebrate this with a triple CD with two to be announcement artist from this line-up . You can collect it, exclusive and signed at the festival. As well as last year's event, the festival will be live streamed through internet! The live stream last year was viewed in 80 countries. Check the website for the amazing offer, pre-ordering this triple CD…
Unique Ticket Deal – Save NOW! Grotesque Back2Back Reunion Party & GIF#300
Grotesque offers you the opportunity to purchase a combi deal. You will purchase 2 Earlybird tickets for the next 2 Grotesque Events for an even sharper price. The combi deal is offered for €59,50 (ex fee). If you want to buy the tickets separately, you can of course. The Earlybird price for September 30th is €24.50 (ex fee) and the Earlybird price for the Grotesque Indoor Festival # 300 is €37,50 (ex fee) The International ticket sales will start Wednesday, July 26th, 20.00 cet..(Max 500)
All info about the Grotesque Back 2 Back Reunion Party you will find here!
[AdSense-A]
Visit our website or follow our Facebookpage for all updates, tickets & info
LINE-UP:
2nd Phase
Adam Seller
Dano
Darren Porter
Fausto
Indecent Noise
Marco V
Mark Sherry
Ram
Renji
Reorder
Santito
Sneijder
Spider
Standerwick
Super8 & Tab
Toyax
Mc da Silva
GROTESQUE INDOOR FESTIVAL #300 – MAASSILO ROTTERDAM
DATE: Saturday December 9th, 2017
TIME: 21.00 – 06.30
AGE: 18+
LOCATION: Maassilo Rotterdam, Maashaven ZZ 1-2, 3081AE
DRESSCODE: Preference –– Mardi Gras Carnival
TICKETSALE: Earlybird €37,50 | Combi Ticket €59,50 | www.ptevents.nl
INFO: https://www.facebook.com/events/1018224068319375/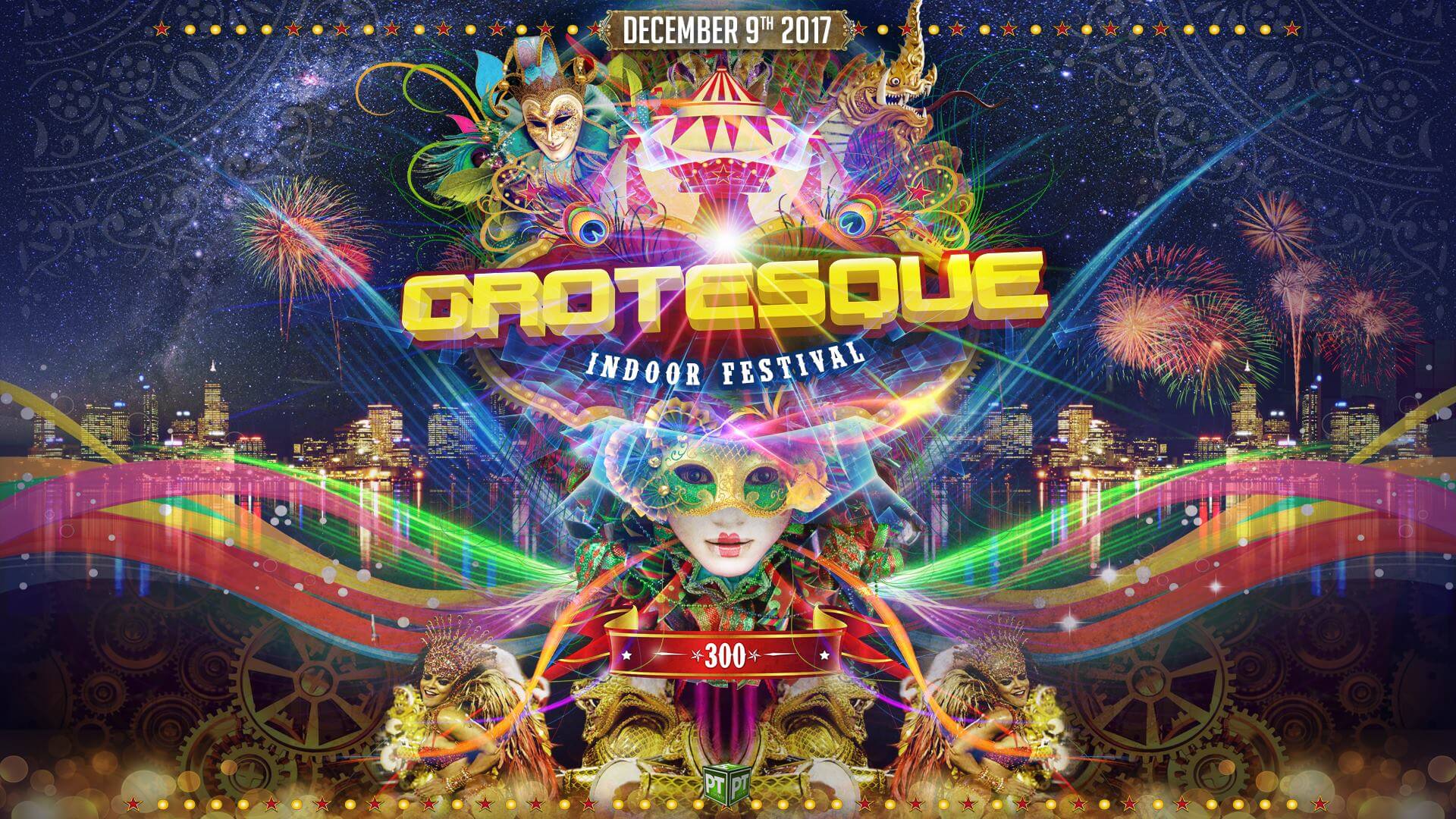 Links:
PT Events official website
Dj RAM official website