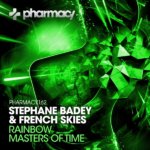 Stephane Badey & French Skies presents Rainbow / Masters of Time on Pharmacy Music
Pharmacy artists Stephane Badey and French Skies team up once again for a top notch collaboration titled Rainbow. This French duo have been captivating the world with their tech trance sound for years and this time they inject their sound with a rolling psy baseline that is both menacing and groovy at the same time. The shimmering melodic breakdown carries over after the drop creating an insane sensory overload.
Stephane Badey goes solo for Masters of Time. A beautiful and haunting melody showcases the breakdown. Bookending either side of the break is a driving groove, twisting acid lines, and emotional pads making for a real trance journey.
Buy it on: TBA
Tracklist:
Trance
Stephane Badey & French Skies – Rainbow (Original Mix)
Stephane Badey – Masters of Time (Original Mix)
Links: