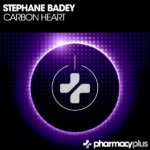 Stephane Badey presents Carbon Heart on Pharmacy Music
Stephane Badey has become an extremely prolific producer in just a few short years since he was handpicked by Christopher Lawrence as a winner of Pharmacy Music remix contest. Since then he has done remixes and original tracks appearing on 175 releases!
Carbon Heart is a funky progressive trance track with a real party moving groove. The bubbling bass and electro edged buzzing mid bass work in unison to give the tracks heaps of funk. One of Stephane Badey's strengths is his ability to create atmospheric and emotional breakdowns without the use of obvious melodies and the break in this track is one of his best yet. Carbon Heart is pure class.
Buy it on: TBA
Tracklist:
Trance
Stephane Badey – Carbon Heart (Original Mix)
Links: