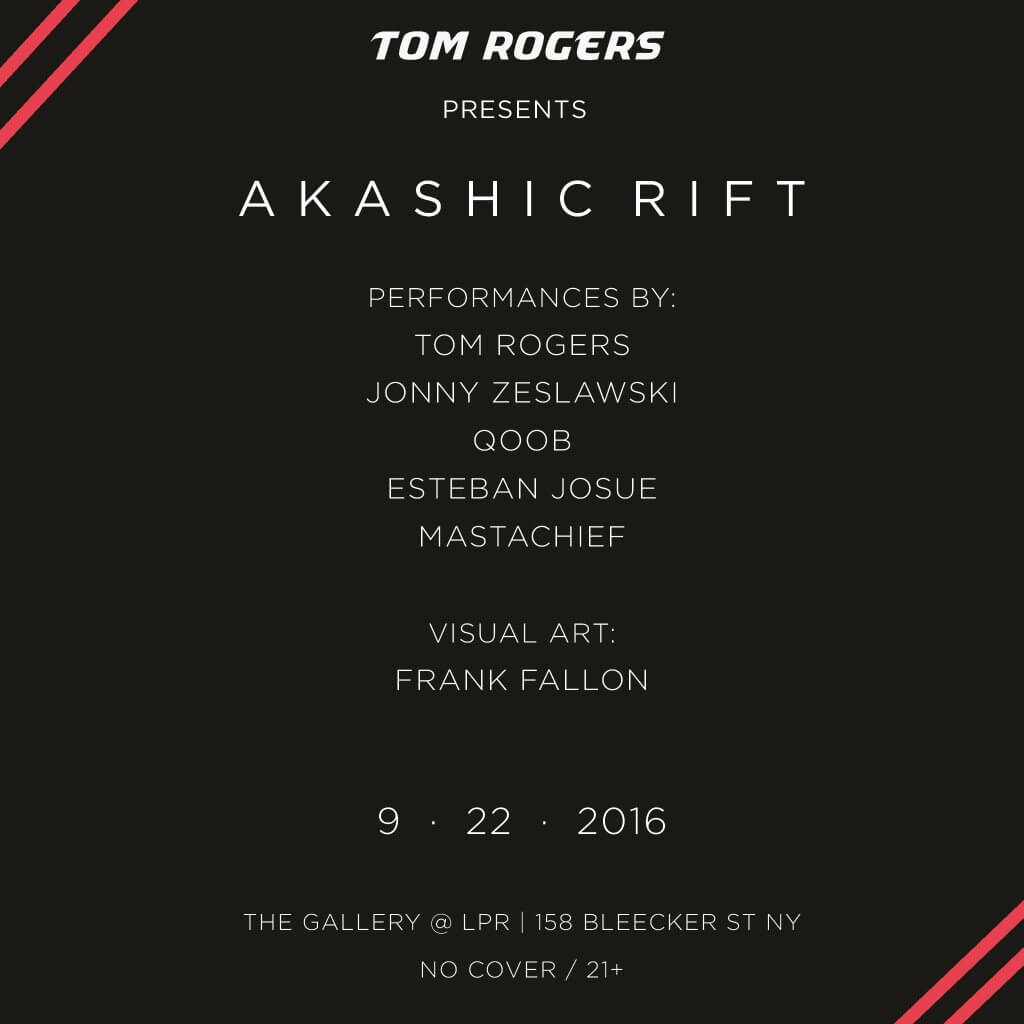 On September 22nd, Akashic Rift returns for a night of atmospheric, cerebral electronic sounds and visual art.
The Akashic Records are believed to be a celestial membrane which surrounds the planet — containing all information that has ever existed. Great leaders, meditation practitioners, and mystics are said to be able to access information from this field.
Join us to remember the underlying core of electronic music with…
Resident Advisor: https://www.residentadvisor.net/event.aspx?881302
Facebook: https://www.facebook.com/events/187007321709150/
===============================
Tom Rogers [Trance]
Soundcloud.com/Tom_Rogers
===============================
Tom Rogers is a Certified Audio Engineer, Producer, and Writer for the United States Trance Movement. Fusing elements from spoken word to film score, his live sets thrive on suspenseful, introspective textures. The unification of ambient soundscapes, controlled glitch effects, and orchestral string sections creates a dynamic atmosphere which obscures the lines between musical genres. He has shared DJ lineups with strong international and local talent, including Kyau & Albert, Ronski Speed, Eco, James Gill, Thomas Datt, and Heavygrinder. Tom has received support from blogs including United States Trance Movement, EDM Insider, The Beatmill, and Undrgrnd Sound. Venues he has performed at include Santos Party House, Club LOVE, Morgan Room, and National Underground.
===============================
Jonny Zeslawski [Progressive & Trance]
Soundcloud.com/Jonny-Zeslawski
===============================
Jonny Zeslawski:
Jonny's early musical influences were from from his Dad playing the likes of Jean Michel Jarre, Depeche Mode and Pet Shop Boys in the late 80's/early 90's.
Music became a huge part of his life and after the Dance Mania craze of '95 in the UK, he was hooked! As Trance became huge towards the start of '99. Jonny became heavily influenced by the likes of Ferry Corsten, Paul van Dyk and Armin van Burren.
Using his Dad's old record deck, another he got from his cousin and a cheap 2-channel mixer, he started DJing in his bedroom using a small selection of records. Early favourites included Fragma – Toca Me (InPetto Mix), Atlantis vs Avatar – Fiji (Lange Remix) and System F – Out of the Blue.
As soon as he was old enough (uh, hmm…) he'd be seen at GodsKitchen most Fridays and PaSSion most Saturdays, listening the the biggest DJs and observing their skills in the booth. Jonny started DJing at pubs, small venues, house parties, birthdays and even weddings; anywhere to get more experience. One of his personal highlights being playing a Trance Classics Set in a 15th Century castle in England – at a wedding! Even the bride had glo-sticks…
Jonny moved to New York in 2015 and his musical style has developed further based on the thriving music scene in Brooklyn and Manhattan. He'd likely describe his style as "anything melodic, with cool beats, driving basslines and awesome riffs that makes people smile and move! I'd say I'm into everything covering Techy-Deep-Progressive-Melodic-Trance, but I'll always tend towards 138!"
After a few years putting music on the backburner and playing at house parties with friends at his apartment in Brooklyn, he's back and you can catch him across New York this summer, performing for Akashic Rift and Inoki Party.
Stay tuned for more announcements!
If you're into Social Media, you can follow Jonny across the usual places:
Facebook.com/JonnyZeslawskiMusic
Twitter: @jonnyzeslawski
Instagram: @jonnyzeslawski
And you can stay up to date with mixes, tracks and re-posts of tracks he likes at:
Soundcloud.com/jonny-zeslawski
Mixcloud.com/jonnyzeslawski
===============================
Qoob [Progressive]
Soundcloud.com/qoob
===============================
The international duo debuted the qoob moniker in 2013. Kirill Andreev & Eugene Maltsev – the two producers from Russia which make up the qoob duo – have very diverse musical interests, and it certainly shows in the variety of music which comes out of their studio.
A look over their discography shows some melodic techno-inspired creations as well as more traditional progressive house. Techy frameworks to proggy rhythms and subtle melodic themes — there is a lot to like here. The trippy nature of their sound is perfect for today's contemporary progressive house scene. Their crossover sound is always a welcome addition to any project. Their gorgeous tracks make them one of the best production duos in the underground.
— Words by Mitch Alexander (C)
===============================
MastaChief [MC/Hype-Man/Poet/Lyricist/Vocalist]
Facebook.com/MastaChiefMC
NYC
===============================
At 5:02am on June 27th, 1992, The Voyce of NYC was born. Voyce DeSouza aka MastaChief was born and raised in New York City. Just as everyone else involved with any kind of art, his calling found him early on in his lifetime. With a name like Voyce the fact that he would inherit a love for spoken word could be considered cliche. Chief took to the microphone in 2006 with a fury that allowed him to share stages with prolific MCs such as Professor Griff (of Public Enemy), Treach (of Naughty By Nature), Easy AD (of Cold Crush Brothers), Chubb Rock, Just Ice, NYOil (formerly Kool Kim of The U.M.C.'s), Hakim Green (of Channel Live), The Black Dot, Hasan Salaam, Rebel Diaz, SpiritChild, Division X, P.E.M.G. and the list goes on.
In the summer of 2010 he was introduced to the Rave Culture by Michael Moscoso aka Michael Phase. Michael offered the tips and tricks needed to understand what it was to perform to an Electronic Music audience and was the first artist that believed in his ability, allowing them to share numerous stages together. Chief, while still remaining loyal to his roots began to venture out on his own as a separate entity, developing an on-stage energy and aggression that could be rivaled by none. This allowed him to host numerous events on the east coast and to rock the mic behind renowned artists such as Scot Project, Lisa Lashes, Filo & Peri, Electrixx, Christopher Lawrence, DJ Dan, HeavyGrinder, DJ Funk, Tommie Sunshine, Frankie Bones, Lenny Dee, Heather Heart, Dank, plus many more and many more will continue to come.
Recognizing that the duty of an MC is to back up what the DJ is doing has kept his style beneath the "annoying" sound the many others can produce. His ability to adapt to any situation (mixing style, genre, technical difficulties, crowd energy, stage set-up, etc.) separates his stage presence. The biggest asset that he has is the desire to not move the crowd but rather to move WITH the crowd; reading their vibe and acting accordingly. With many screams and hands in the air under his belt and many more tricks and surprises up his sleeve, MastaChief comes with the promise that enhancing the experience of any stage will happen with ease.
===============================
Esteban Josue [Tech Trance]

===============================
Esteban Josue is an electronic music composer and producer whose raw organic sounds bring a new cutting edge element to the world of electronic music. Artists such as Ben Neill, The Thrillseekers and Brian Grainger are major influences in his new compositions which tend to incorporate melodic and dark sounds with uplifting and euphoric breaks. Raised in Ecuador and now residing in New Jersey, USA, Esteban Josue is constantly composing electronic music as well as working with multiple musicians in the creation of soundtracks for films, art videos and video games.
Visual Art by:
===============================
Frank Fallon [Painting Display]
===============================
Raised on fine arts and Garbage Pail Kids, Frank B. Fallon is an artist and graphic designer based in NYC. He's a published illustrator for various publications, and seasoned designer and photo retoucher for companies such as Pepsi, Snapple, and Toys R Us, and is currently working on a graphic novel based on some crazy dreams he's had.
===============================
Performance Times
===============================
TBA
The Gallery @ Le Poisson Rogue
158 Bleecker Street
11pm // 21+
No Cover
* Due to a private event, Akashic Rift will start at approximately 11:00 this night.