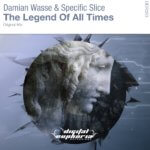 Damian Wasse and Specific Slice presents The Legend Of All Times on Digital Euphoria Recordings / Abora Recordings
Digital Euphoria continues its ascension with the release this week of something very special from Damian Wasse & Specific Slice. This is 'The Legend Of All Times'.
The two producers team up to bring us an intricate piece of music that remains faithful to its title.