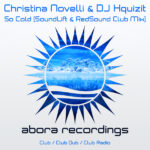 Christina Novelli & DJ Xquizit presents So Cold (SoundLift & RedSound Club Mix) on Abora Recordings
Some familiar faces are hitting Abora Recordings by storm this week with a massive release. This is 'So Cold' from Christina Novelli and DJ Xquizit, remixed by SoundLift and RedSound.
We are pleased to introduce the pinnacle of vocal trance with none other than the trance queen Christina Novelli on vocal duties.