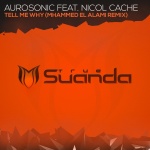 Aurosonic feat. Nicol Cache presents Tell Me Why (Mhammed El Alami Remix) on Suanda Music
Russian musical genius Evgeny Smirnov aka Aurosonic with Nicol Cache presented to the world an unforgettable hit called 'Tell Me Why'.
Today we give you one more version of this amazing track – Remix By Mhammed El Alami.