Above & Beyond presents Group Therapy 250 @ The Gorge Amphitheatre, Washington DC, USA on 16th and 17th of September 2017 – DAY 1
Above & Beyond drop new single "My Own Hymn feat. Zoë Johnston" ahead of ABGT250 at The Gorge Amphitheatre on Sept 16-17
On Sept 16 & 17, tune in to the ABGT250 livestream presented by T-Mobile as part of the Live Nation Concert Series on Twitter
In just one week, Above & Beyond will host the 250th episode of their celebrated "Group Therapy" radio show, live from The Gorge Amphitheatre in Washington State. With only a handful of tickets remaining, the two-day event will see 25,000 fans descend on The Gorge for a line up full of talent from the band's Anjunabeats and Anjunadeep imprints, broadcasting worldwide via a livestream and over FM/Satellite radio.
Group Therapy 250 takes place on Saturday, September 16 at The Gorge Amphitheatre Mainstage and features performances by Above & Beyond, Genix & Sunny Lax, Luttrell, Oliver Smith, Seven Lions & Jason Ross and Yotto. Sunday, September 17 offers a change of pace as Jono, Tony and Paavo hand over the reigns to Anjunadeep, the trio's highly respected Deep House imprint. A more chilled, Sunday afternoon vibe will flow through The Gorge Meadow with music from Above & Beyond (yoga set), 16 Bit Lolitas, Eli & Fur, Jody Wisternoff & James Grant, Moon Boots, Yotto & Luttrell. As an added bonus, fans camping at The Gorge on Friday, September 15 will also be treated to a preview screening of a film of Above & Beyond's recent acoustic performance at The Hollywood Bowl, taking place at The Gorge Meadow from 8pm.
Can't make it to ABGT250 in person? Both days will be streaming live via Twitter, presented by T-Mobile as part of the Live Nation Concert Series. Head to aboveandbeyond.twitter.com (USA only) or ABGT250.com/live (rest of world) to join Above & Beyond's global dance floor on Saturday, September 16th from 5PM Pacific Time and Sunday, September 17th from 12pm Pacific Time. As always, you can be part of the livestream using the hashtag #abgt250.
"T-Mobile has a history of helping us make our events extra special for fans and Twitter has always been at the heart of our ABGT broadcasts so it's a natural fit to partner with them on the livestream. We're happy that we can bring this experience to our fans who will not be able to join us in person at The Gorge." – Above & Beyond
Just days before fans from over 40 countries around the world converge on The Gorge for ABGT250, Above & Beyond play a sold-out Red Rocks Amphitheatre in Colorado, adding another world famous venue to the band's ever-expanding bucket list of headline slots, which already includes sold-out performances at The Hollywood Bowl, Madison Square Garden, Sydney Opera House, Royal Albert Hall, Alexandra Palace, London and Amsterdam's Ziggo Dome.
ABGT250
Saturday Sept 16 & Sunday Sept 17
The Gorge Amphitheatre
George, Washington
Saturday Sept 16
Group Therapy 250
The Gorge Amphitheatre Mainstage
5PM – 1AM
Above & Beyond
Genix & Sunny lax
Luttrell
Oliver Smith
Seven Lions & Jason Ross
Yotto
Sunday Sept 17
Anjunadeep @ The Gorge Meadow
11AM – 8.30PM
Above & Beyond (yoga set)
16 Bit Lolitas
Eli & Fur
Jody Wisternoff & James Grant
Moon Boots
Yotto & Luttrell
Above & Beyond On Tour:
Sep 14 Red Rocks (SOLD OUT) Morrison, CO
Sep 16 ABGT250 George, WA
Sep 22 Story Nightclub Miami Beach, FL
Sep 23 The Metropolitan Nightclub New Orleans, LA
Sep 24 Imagine Festival Atlanta, GA
Oct 28 Something Wicked Festival Houston, TX
Nov 04 The O2 (SOLD OUT) London, United Kingdom
Dec 15 Creamfields Hong Kong, China
Dec 31 The Armory Minneapolis, MN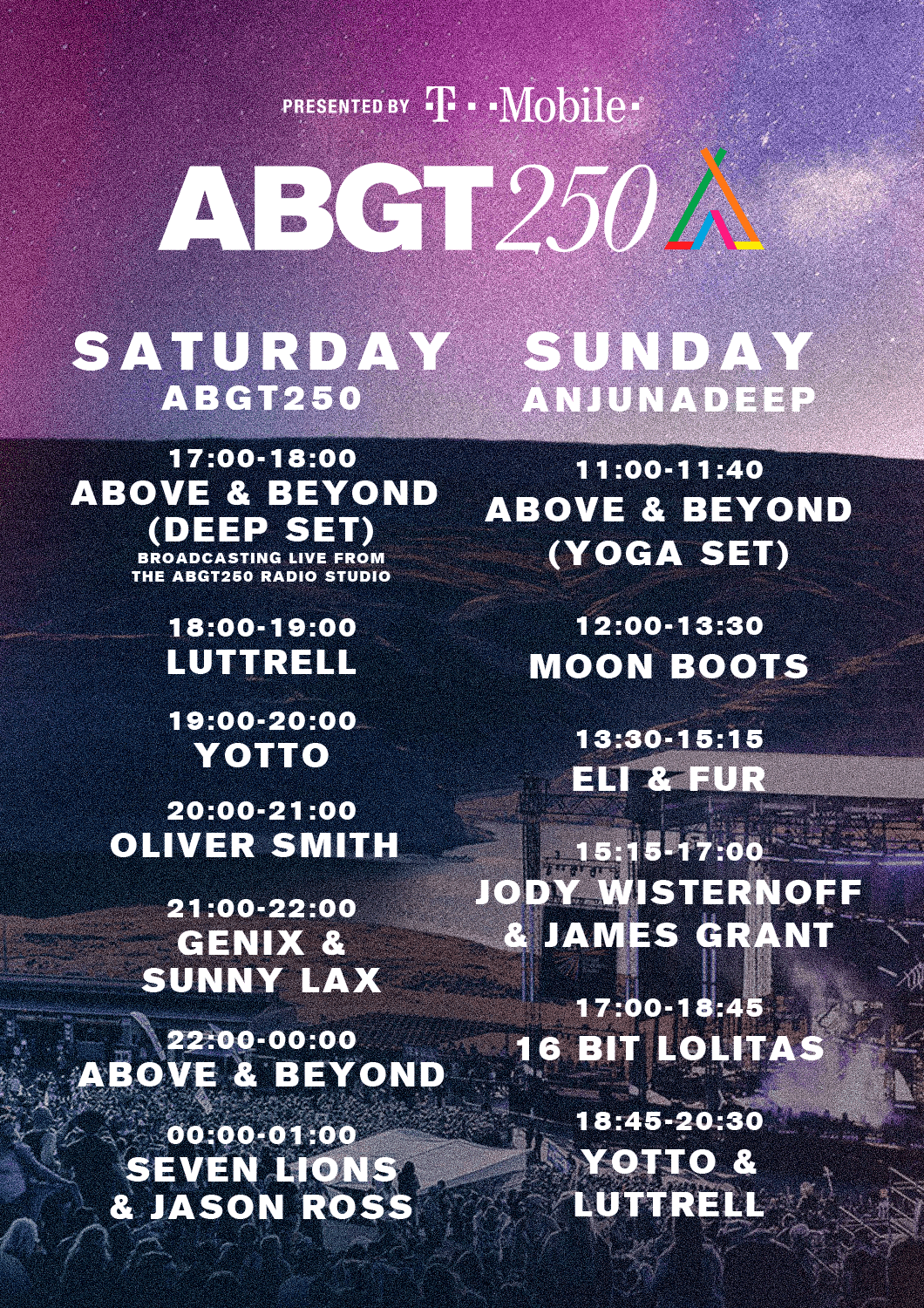 Links:
Above & Beyond official website
Anjunabeats official website