Bonzai and Cherry Moon presents Retro Beach at Hippodroom, Koningin Astridlaan Oostende, Belgium on 19th of August 2017
Retro Beach is back for 2017 and once again we're gonna throw one hell of a party. Following the huge success of last year, Bonzai Records and Cherrymoon will come together on the 19th of August 2017 at the Hippodroom (Oostende, Belgium) for a massive retro blowout with a little help from some of the biggest names in electronic music, over 15 artists over two rooms to be exact.
The history that these two behemoths of the European dance music scene have, is second to none. They shaped a way of life for a generation of hardened party animals and casual clubbers alike. When we speak of the sound of yesteryear their names always come up and always have a story to tell. So join us as we take a trip back to the good old days and let us provide you with the ultimate retro soundtrack for your journey.
Bonzai and Cherrymoon go head-to-head across 2 rooms of sound complete with intelligent lighting, full decoration and a very impressive line-up. The Main Room will host a plethora of legends including Bonzai All Stars – Yves Deruyter – DJ Ghost – Youri Parker – Dave Davis – Bountyhunter – Franky Kloeck – Jan Vervloet and BPM. Over at the Foyer our next batch of legends include Oliver Lieb – Airwave – Phi Phi – Olivier Pieters – Mike Thompson – Alain Faber and Dimitri Cooman.
Put this one in your diary and get your party gang together for the ultimate night to remember.

LINE-UP:
The Main Room – Bonzai All Stars
Yves Deruyter
DJ Ghost
Youri Parker
Dave Davis
Bountyhunter
Franky Kloeck
Jan Vervloet
BPM
The Foyer
Oliver Lieb
Airwave
Phi Phi
Olivier Pieters
Mike Thompson
Alain Faber
Dimitri Cooman
IMPORTANT INFO
PRESALE: 29,00 EUR (Ex Fee)
Presale at:
All Fnac outlets
CONTACT OR INFO
info@retrobeach.be
http://retrobeach.be
http://fb.com/retrobeachbelgium
GPS ADRESS
Hippodroom Oostende / Ostend Sea P'Lace
Koningin Astridlaan 10
8400 Oostende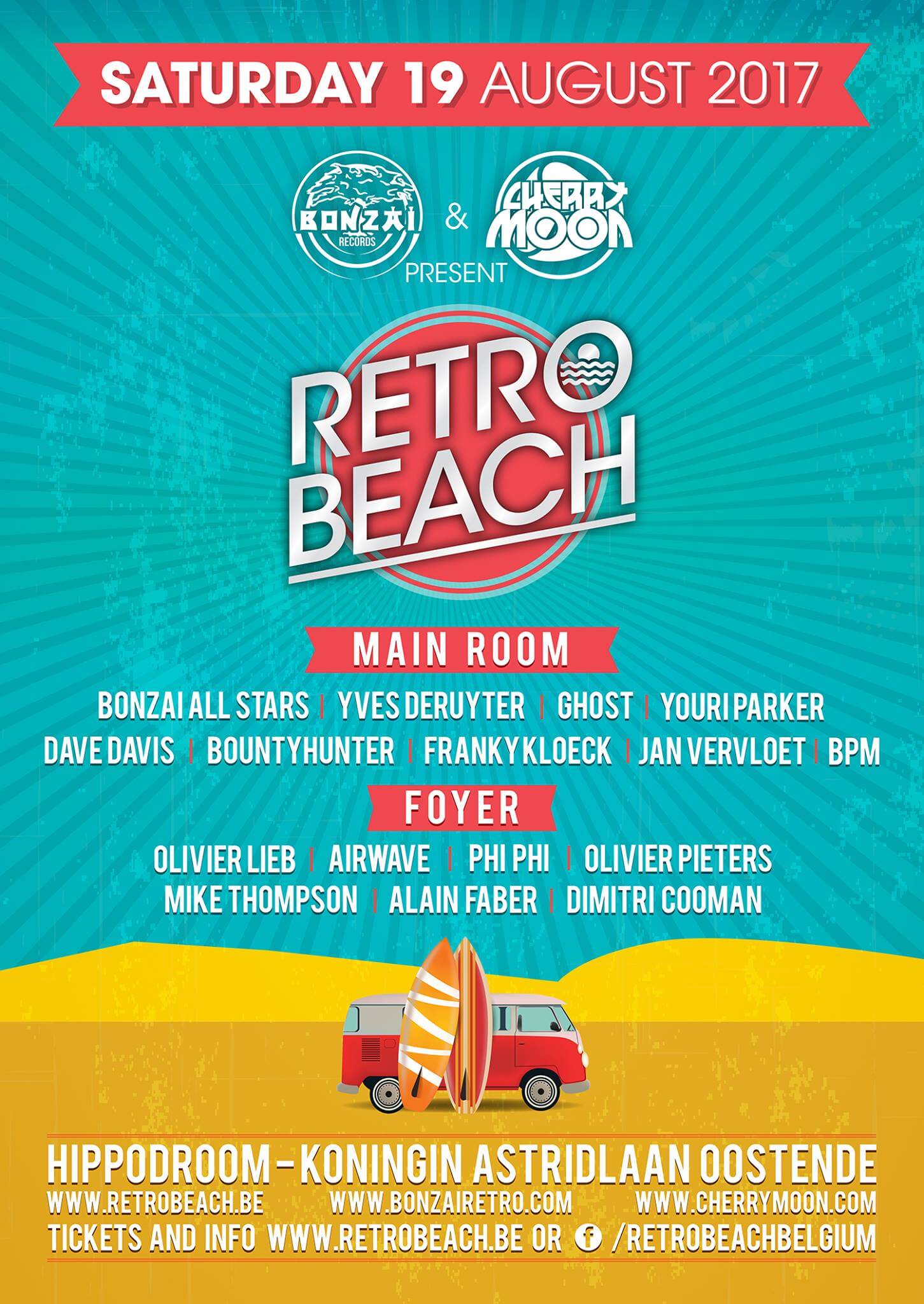 Links:
Retro Beach official website
Bonzai Retro official website
Cherry moon official website