Paul van Dyk announces new VENTURE X event concept
Debuting in North America in the winter of 2023
Paul van Dyk, one of the most iconic and influential names in dance music, announces his new VENTURE X live event concept which launches in North America this February 2023.
VENTURE X is an exciting new concept where the master DJ and curator sources from the finest trance, progressive house, and techno music available and brings it all together during one incredible evening. van Dyk famously feeds off his fans, focusing on the improvisational art of the craft and editing tunes on the fly. Familiar sounds are presented in an entirely new context, with a focus on embracing the unexpected. It's that moment when you hear a snippet of a song you love but find your jaw dropping in awe over the direction and journey van Dyk is taking you on. It's unpredictable…it's unmissable…it's VENTURE X defined by Paul van Dyk.
"VENTURE X allows me to explore the width of what electronic music means to me, not just what people expect me to play. It allows me the space to play what I think people should really know, feel, and be exposed to. People know me for trance but there is so much more. VENTURE X allows me to do this as a musical concept because I won't play 130 BPM straight through but rather a wider musical experience. With most DJ sets I find you either have techno but missing the progressive sequence that takes you on a journey or you have a progressive sound that's missing the punch. For me, that's what it's about, the drive, the push, the pull, and the memories that you create," van Dyk says.
VENTURE X kicks off on February 17, 2023, in Toronto, Canada at Toybox and will be presented additional cities including New York City, Montreal, Pontiac, Denver, Portland, San Francisco, and Austin. Tickets are available here.
Keep an eye out for new music updates and additional tour dates in the coming months.
Paul van Dyk VENTURE X North American Tour Dates
Feb 17 – Toybox – Toronto, ON
Feb 18 – Webster Hall – New York, NY
Feb 24 – New City Gas – Montreal, QC
Feb 25 – Elektricity – Pontiac, MI
Mar 3 – Church Nightclub – Denver, CO
Mar 4- 45 East – Portland, OR
Mar 10 – Public Works – San Francisco, CA
Mar 11 – venue TBA – Austin, TX
CONNECT WITH PAUL VAN DYK:
YouTube
Facebook
Twitter
Instagram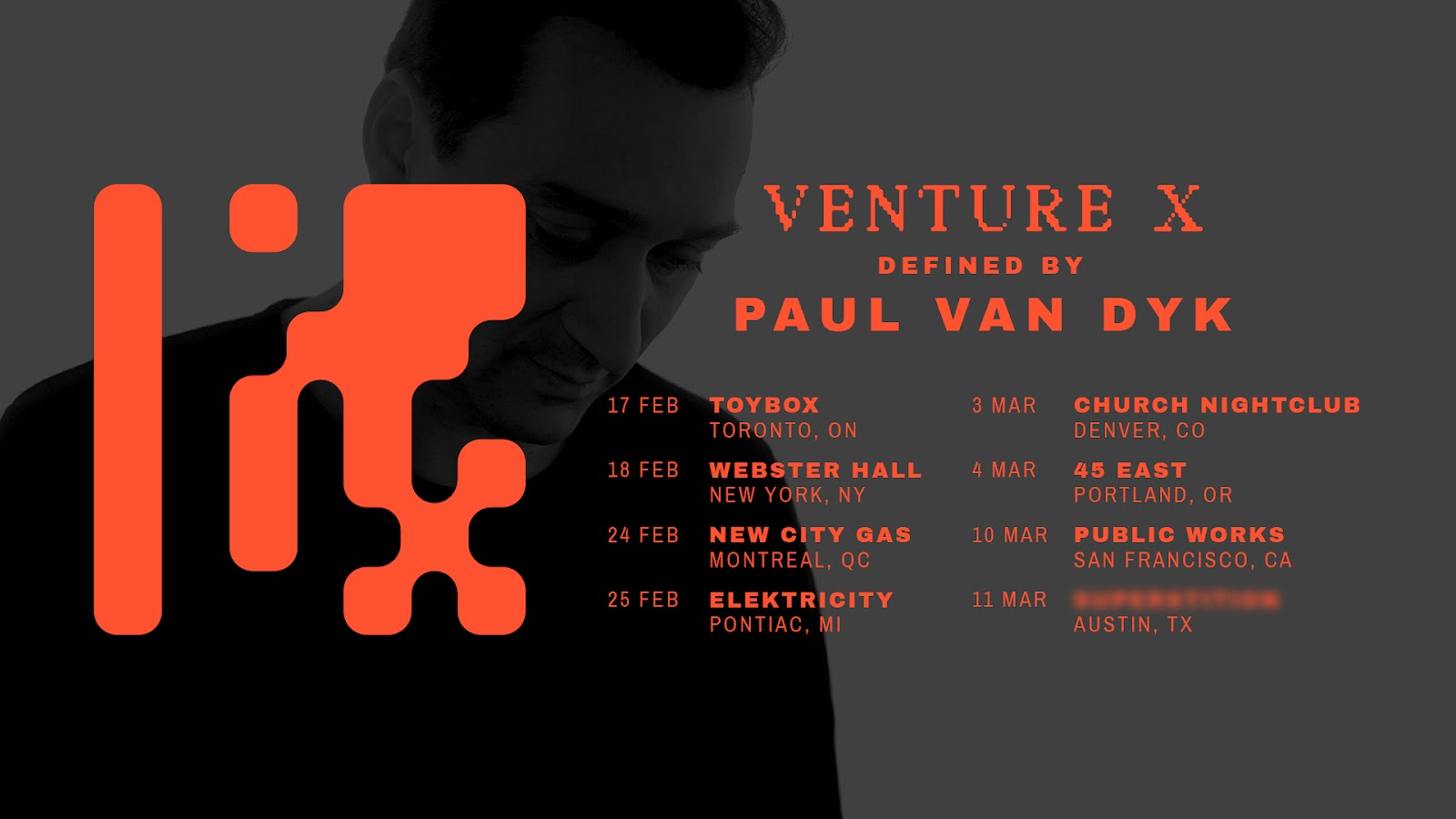 Links: