Quest4Trance & Solarstone presents Pure Trance ADE 2017 @ Postillion Convention centre, KBF complex, Amsterdam, The Netherlands on 21st of October 2017
Quest4Trance & Solarstone presents Pure Trance | ADE 2017
If you haven't made up your Pure mind about joining us to Amsterdam Dance Event 2017 yet, we've got a few days to convince you. Because surely you don't want to miss ADE, dance music's favourite week of the year. Thiss will be the 6th ADE edition of Pure Trance, and we're telling you… it might just bet he biggest one yet!
At the industrial Postillion Convention centre | KBF complex Amsterdam, Solarstone has invited a league of extraordinary DJs. Our Pure Dream Team is made of Gai Barone, Robert Nickson, Giuseppe Ottaviani, Bryan Kearney and John O'Callaghan, alongside Solarstone himself.
Giuseppe will be performing a very special Live 2.0 set, and Robert Nickson will indulge us with a live experience as well. Gai Barone serves us the best slice of the prog, and our Irish guests Bryan Kearney and John O'Callaghan will teach you a thing or two about trance. Last but not least, we've got the Pure Trance flag bearer, Solarstone, who'll showcase the sound of Pure Trance like no one else can do.
See you on Saturday Ocobter 21st at Quest4Trance & Solarstone presents Pure Trance ADE 2017
Exclusively available at our ADE show!
Solarstone pres. Pure Trance Vol. 6 mixed by Robert Nickson, Solarstone & Factor B
Release date: October 27th.
LINE-UP:
Solarstone
Gai Barone
Robert Nickson
Giuseppe Ottaviani
Bryan Kearney
John O'Callaghan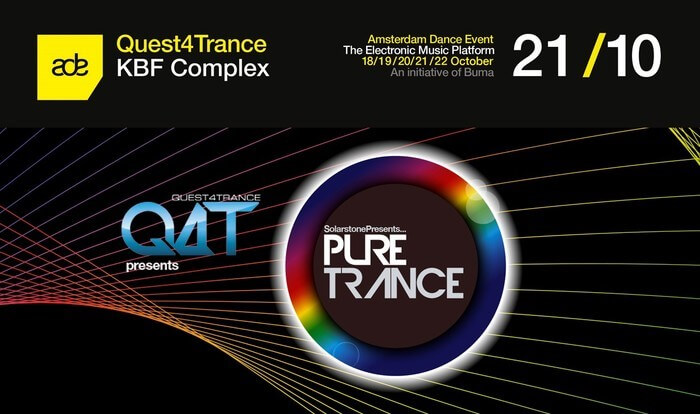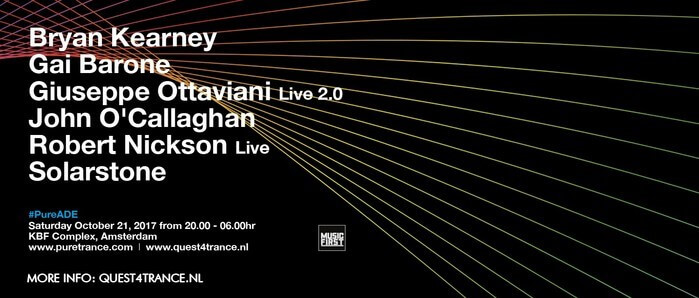 Links:
Quest4Trance official website
Pure Trance official website
Solarstone official website