The Gallery presents Open Up London @ Ministry of Sound, London, UK on 17th of November 2017
'Open Up' specifically at The Gallery assumes extra significance over other showcases, where concept founder Simon Patterson plus John Askew enjoy a great affinity among The Gallery faithful. With the latter having held residency status and Simon himself celebrating many career milestones, the duo have been present at both previous OU showcases at Ministry of Sound. Hence the expertise to push The Box and its mammoth sound installation to the very limit ñ always reserving those untested cuts and re-edits for the occasion. One which is always tailored towards a harder persuasion, this time around welcomes a Gallery debut for Avalon plus the return of good friend Jerome Isma-Ae.
LINE-UP:
Simon Patterson
John Askew
Avalon
Jerome Isma-ae
SIMON PATTERSON:
After hitting home turf of Belfast a few weeks back, Simon returns to his second home in our capital city ñ all set to represent that eclectic Open Up ethos. Siís famed 'Dogzilla' alias is sure to be acknowledged with the Will Atkinson remix of of 'Without You' which hit Beatport No.1.
JOHN ASKEW:
John recently completed a five hour session in Argentina, a trip to South America described as his favourite gig of 2017 to date. After Open Up London at The Gallery, this eagerly anticipated Ministry of Sound show is guaranteed to exceed all thatís gone before this year.
AVALON:
A Ministry of Sound debut long requested by The Gallery faithful, AVALON arrives on the back of collaboration with Astrix – which also hit Beatport No.1 in the Psy-Trance chart. Plus as special guest for summerís Open Up showcase in Los Angeles, Avalon has suitable credentials to rock The Box.
JEROME ISMA-AE:
Jerome Isma-Ae is back after a hiatus of almost eighteen long months. Regarded one of the nightís most consistent performers after a 2009 Ministry of Sound debut, Jeromeís chunky and groove orientated sound always goes down a treat in the main room ñ and provides depth to tonightís Open Up homage.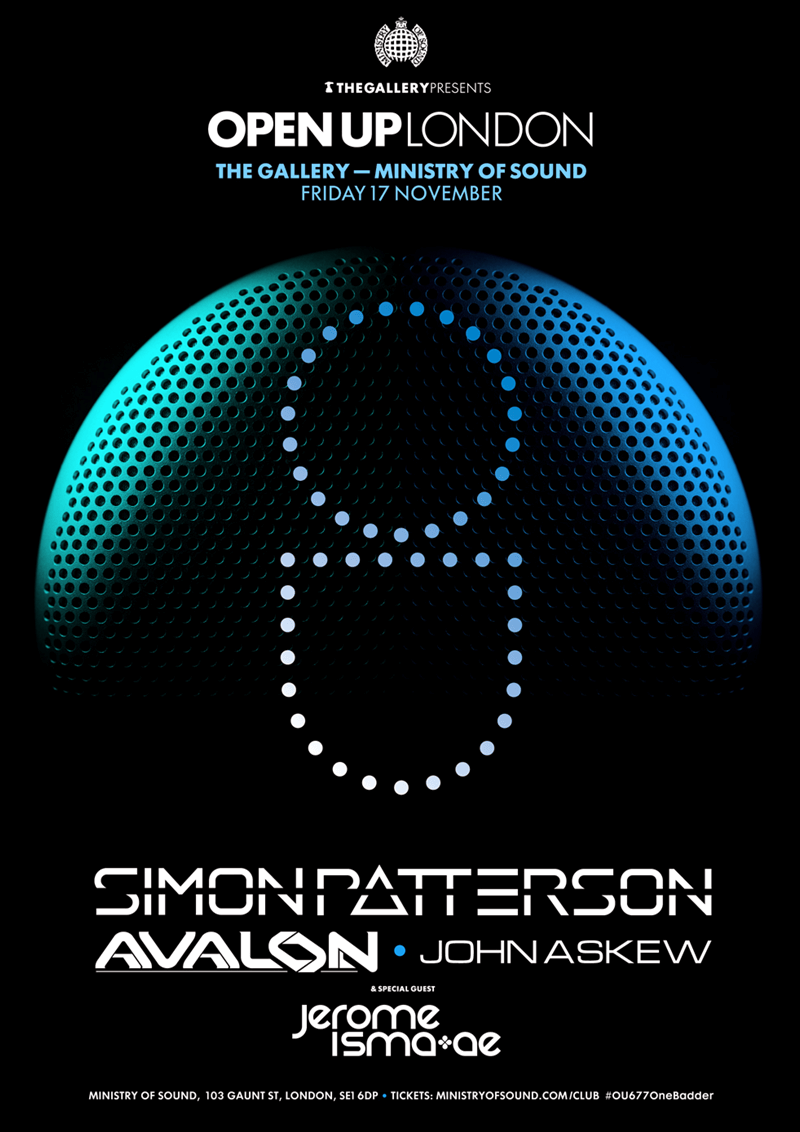 Links:
Simon Patterson official website
The Gallery Club official website
Ministry Of Sound official website