Trance.Mission presents Ashley Wallbridge & Daniel Skyver @ Four Runners Club, Ludwigsburg, Tammerfeld, Germany on 21st of April 2018
9 YEARS TRANCE.MISSION!!
On Saturday 21st of April 2018 it's time to celebrate the ninth birthday of the successful event series! This anniversary will surely become varied and unforgettable because the Trance.Mission Crew has invited two outstanding international trance acts to the Four Runners Club in Ludwigsburg.
For the first time in a Southern German Club ASHLEY WALLBRIDGE from Northern England will take over the decks. For over a decade he has been one of the most successful progressive trance producers with releases on Armada, Garuda and AVA. Ashley made it all the way up in those years. Meanwhile, he runs Garuda together with Gareth Emergy and continues to provide fresh progressive sound. So his latest release 'Surrender' – a collab with Darude – recently climbed to number 1 in the Beatport Trance Charts. His tracks and remixes have always been unique, innovative and energetic. Tracks like 'Zorro', 'Faces' or 'Meta4' are already classified as future trance classics. In 2012 he released his first studio album 'The Inner Me' on Armada Music which earned lots of respect around the globe and climbed to #5 in the US and #9 in the Canadian Dance Charts. If, for once, Ashley is not active in the studio, he tours regularly through Australia, America and Asia – and thrills the masses at all major dance music festivals and parties.
DANIEL SKYVER from Southern England will provide pure uplifting sound this night! Daniel has been active as a producer, remixer and DJ for many years now. He is under contract with the renowned label Grotesque Music, where he also works as A&R manager. His productions have been supported by the scene's biggest acts like Aly & Fila, Bryan Kearney or Paul Oakenfold. His performances have already brought him to the hottest events in Europe. So Daniel Skyver rocked festivals like Dreamstate, Luminosity and Trance Sanctuary plus the most exciting venues on the whole continent!
These two prime headliners will be supported by the Trance.Mission residents CYRE, SCORE and CHRISTIAN K.! So what are you waiting for? It's about time to get your dose of high energetic trance!
The T.M Crew is looking forward to celebrate their "9 YEARS" together with YOU!
WE LOVE TO SEE YOU TRANCE!
DJs:
ASHLEY WALLBRIDGE (UK)
DANIEL SKYVER (UK)
Cyre
Score
Christian K.
Event: TRANCE.MISSION | 9 Years
Location: Four Runners Club – Heckenwiesen 14 – 71634 Ludwigsburg / Tammerfeld (Germany)
Style: Uplifting & Progressive Trance
Date: Saturday, 21st of April 2018
Doors open: 10 PM (CET)
CONNECT WITH TRANCE.MISSION: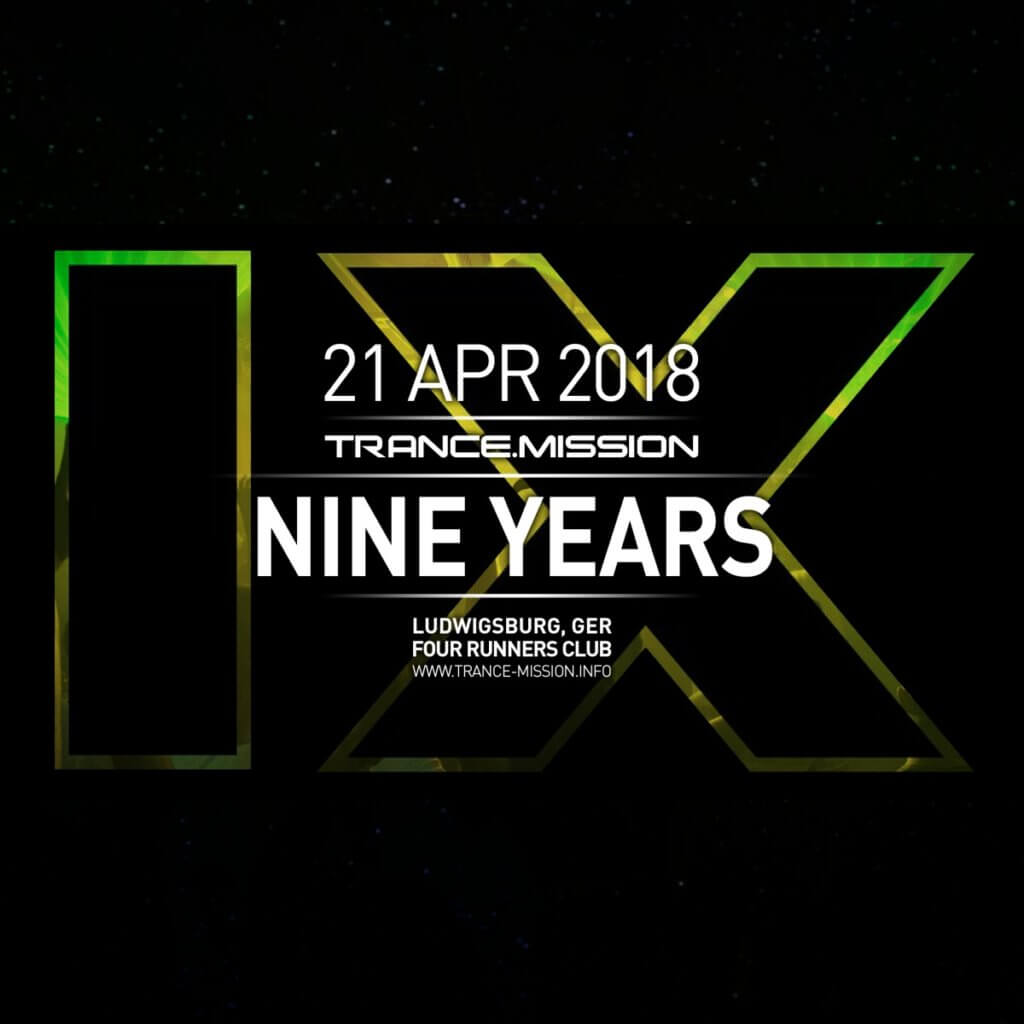 Links: