Trance.Mission presents Driftmoon & Allen Watts at Four Runners Club, Ludwigsburg, Germany on 25th of March 2017
8 YEARS TRANCE.MISSION!!!
On Saturday 25th of March 2017 it's time to celebrate the eighth birthday of the successful event series! This anniversary will surely become intense and unforgettable because the Trance.Mission Crew has invited two outstanding international trance acts to the Four Runners Club in Ludwigsburg.
For the first time in a Southern German Club DRIFTMOON from the Czech Republic will take over the decks. Juraj is one of the most consistent, productive and forward thinking producers, who has emerged in the past years. Driftmoon is heart and mind combined into perfect harmony. His music can be defined as melodic arena trance with wide variation in both trance and uplifting trance enriched with some classical influences. Tracks like 'From The Ashes', 'Waves', or 'Stronghold' are already classified as future trance classics. At the end of 2016 he released his first studio album '(R)Evolution' on Abora Recordings which earned lots of respect around the globe. What started as a small project quickly grew into a true worldwide success over the past years with tours in Australia, America, Asia and regular attendance of the most famous dance music festivals and parties in Europe.
ALLEN WATTS from the Netherlands will also give his debut in Southern Germany. Since his first successful release 'What May Come' in the year 2012 he rushed up the career ladder. In just a few short years Allen Watts has caught the attention of the world's DJ elite – having remixed for Armin van Buuren, appeared on countless compilations and produced amazing titles such as 'Gravity', 'Flashback', and 'Meteor' – and even been invited to perform alongside Aly & Fila for their FSOE 350 event in Poland to 15.000 fans. His bookings brought him across the globe. No matter if he's playing in the small underground club at Los Angeles or the big festivals such as Luminosity and Grotesque – Allen Watts always delivers the perfect vibe!
These two prime headliners will be supported by the hosts of the Trance.Mission Crew CYRE, SCORE, and CHRISTIAN K.! So what are you waiting for? It's about time to get your dose of high energetic trance!
The T.M Crew is looking forward to celebrate their "8 YEARS" together with YOU!
WE LOVE TO SEE YOU TRANCE!

LINE-UP:
DRIFTMOON (Future Sound Of Egypt)
ALLEN WATTS (Who´s Afraid Of 138?!)
CYRE (Silent Shore)
SCORE (Monster Tunes)
CHRISTIAN K. (Trance.Mission)
STYLE: Uplifting & Progressive Trance
EVENT: Trance.Mission | Eight Years Anniversary
DATE: SAT 25.03.2017
DOORS OPEN: 10 pm (CET)
LOCATION: Four Runners Club | Heckenwiesen 14 | 71634 Ludwigsburg | Germany
CONNECT ON FACEBOOK WITH:
Driftmoon
Allen Watts
Cyre
Score
Christian K.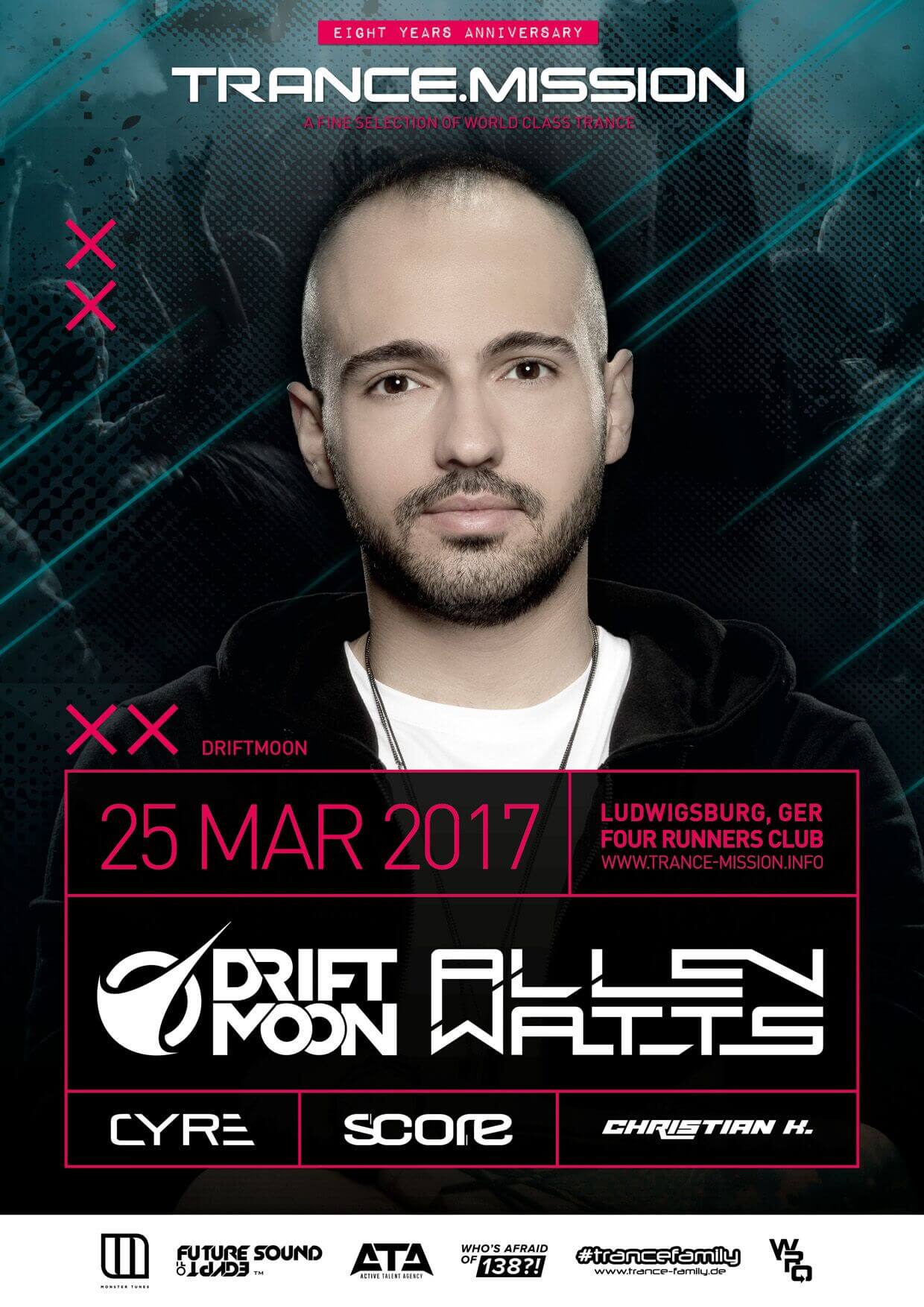 Links: