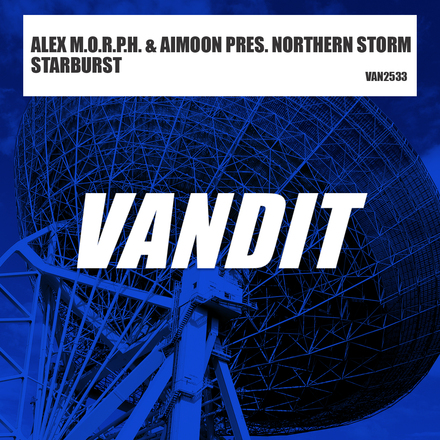 ALEX M.O.R.P.H. & AIMOON pres. NORTHERN STORM presents Starburst on Vandit Records
ALEX M.O.R.P.H. & AIMOON PRES. NORTHERN STORM JOIN FORCES AGAIN TO DELIVER TRANSCENDENT TRANCE EXPERIENCE WITH 'STARBURST' ON VANDIT RECORDS
Trance luminaries Alex M.O.R.P.H. and Aimoon, renowned for their previous high-energy collaborations, reunite to unveil their latest sonic masterpiece, 'Starburst' under the Northern Storm alias. This scintillating Trance release is set to illuminate dance floors worldwide, and it is now available on VANDIT Records.
The collaboration between Alex M.O.R.P.H. and Aimoon has consistently delivered electrifying results, with previous works like 'Astra' leaving an indelible mark on the Trance community. 'Starburst' continues this tradition, taking listeners on a celestial journey through pulsating beats, euphoric melodies, and an otherworldly atmosphere.
Alex M.O.R.P.H., a stalwart in the Trance scene, and Aimoon, known for his dynamic and innovative approach to production, seamlessly combine their talents to create a track that embodies the essence of the genre. 'Starburst' is not only a testament to their collaborative synergy but also a celebration of the energy and emotion that Trance music can evoke.
VANDIT Records, a label synonymous with quality Trance releases and a commitment to pushing the boundaries of the genre, is thrilled to present 'Starburst' as the latest addition to its illustrious catalog. The track exemplifies the label's dedication to showcasing groundbreaking talent and delivering music that resonates with fans around the globe.
Trance enthusiasts and electronic music lovers alike are invited to experience the ethereal sounds of 'Starburst,' now available on all major digital platforms.
Buy it on: TBA
Tracklist:
ALEX M.O.R.P.H. & AIMOON pres. NORTHERN STORM – Starburst (Original Mix)
Release Number: VAN2533
Release Date: Nov. 24, 2023
Links:
Alex M.O.R.P.H. official website
Vandit Records official website