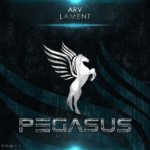 ARV presents Lament on Pegasus Music
Pegasus Music returns with this beauty from AVR.
Lament will push enough torque through the wheels of steel that the chasis of the crowd will buckle under immense force & the bpm will hit the rev limiter in no time at all with its powerful nitrous injected intro from the moment the green light is given.
This track ploughs through the lineups & reaches the 1st twist to the course & hugs the apex melodies in a tranquil downshift that keeps you focused & controled with precision engineering in the breakdown.
This then gently glides around from one corner to the next & prepares to roll out onto the straight like a true performance champion leading the race.
With an upshift smoothly placed in the main part of the track with graceful uplifting boost that heads towards the finishing line outro with full dedication to its fans that has the crowd roaring for a victorious lap of honour to which this is more than happy to oblige.
We hope you like this release as we do.
Enjoy!
Release date: TBA
Buy it on: TBA
Tracklist:
ARV – Lament (Original Mix)
Links:
N/A