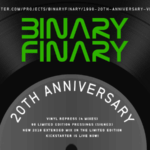 Binary Finary presents 1998 20th Anniversary Vinyl Project
1998 20th Anniversary Vinyl Project
20th birthday vinyl repressing of 1998 including remixes. A new 2018 remix of 1998 on a limited edition version (98 copies only).
About this project
Our track '1998' is going to be 20 years old shortly. To celebrate 2 decades of this track being played out in clubs, we decided to offer a repress of the Original Mix, Paul Van Dyk Remix, Matt Darey Remix and the Gouryella Remix.
We also decided to do a special limited edition version, which will have the extended version of the original 1998 track on as well as a new extended mix of 2018, and this version will be on this piece of vinyl exclusively.
1998 was the first piece of purely instrumental electronic dance music to enter the UK charts top 40. It cemented itself into history with its unique melody and uplifting energy. 20 years later it still gets crowds jumping around, hands in the air, hairs on the back of the neck standing up.
We thought long and hard about doing this project and it has taken quite a bit of work to get it this far. Now it is all over to you to make this project become a reality.
We have a pressing plant ready to go to be able to press his quality vinyl and to be able to ship this out to you safely and securely.
We are due to start the new remix of 1998 as soon as this project goes live and over to you, with the faith that this idea will pass its funding mark and give 1998 a true 20th birthday celebration. We are going to start the basics at our home studio.
Once the funding goal is reached, we employ a graphic artist to make the artwork really shine. We go into a studio to get the creatives for this new 2018 mix really going. We will employ the best mastering engineer we can find to get all the tracks mastered correctly for vinyl.
Support the project on Kickstarter
A breakdown of costs to make this happen are as follows:-
– Studio time
– Mastering engineer
– Pressing the vinyl
– Artwork
– Printing labels and sleeves
– Test Pressings sent to Australia
– Sleeves posted to Australia, signed and then sent back
– Fulfillment
– Payment of royalties to master content owners (label)
We are so excited to bring this project to life. We need your backing, love and support to make it work. So please either support, or share the love via social media. Without you, this project is nothing.
Thank you
Stuart, Matt, Sasha – Binary Finary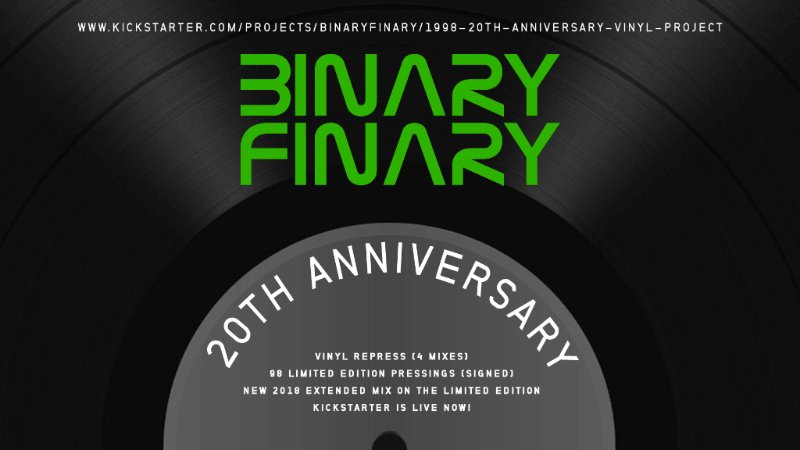 Links: