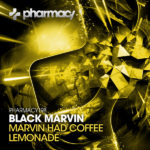 Black Marvin presents Marvin Had Coffee plus Lemonade on Pharmacy Music
Black Marvin is one of the most creative artists on the label so whenever he has a new release it's always exciting to hear what he comes up with. Once again Black Marvin does not disappoint.
Marvin Had Coffee is a cleverly crafted psychedelic journey. The energy is kept up with a galloping bassline that gains some melody as it builds to the breakdown. The breakdown is short and sweet to keep the party moving and grooving.
Black Marvin gets more experimental on Lemonade, letting the creativity flow in a twisted exploration of sound and rhythm. This is the sound that has given Black Marvin a passionate following. His outside the box approach to trance is fresh and rewarding.
Buy it on: TBA
Tracklist:
Trance
Black Marvin – Marvin Had Coffee (Original Mix)
Black Marvin – Lemonade (Original Mix)
Links: