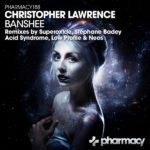 Christopher Lawrence presents Banshee Remix Series volume 2 on Pharmacy Music
Christopher Lawrence's Banshee is one of the biggest singles in Pharmacy Music history – hitting #1 on Beatport's Trance chart. Described by Trancehub as 'Brilliant' and by Tilllate as a 'Pounder', Banshee was supported by DJs such as Paul van Dyk, Aly & Fila, Indecent Noise, Jordan Suckley and Bryan Kearney to name a few.
Always wanting to support new talent, Pharmacy launched a remix contest for Banshee. There was so many strong entries that we couldn't pick just one – so we narrowed it down to the best in four genres.
To our surprise we also received entries from several from our very own Pharmacy team. We thought it only fitting to give them their own release so we present the Pharmacy Artist Remixes featuring Stephane Badey, Superoxide, Neos, Low Profile and Acid Syndrome.
Buy it on: TBA
Tracklist:
Trance
Christopher Lawrence – Banshee (Superoxide Remix)
Christopher Lawrence – Banshee (Stephane Badey Remix)
Christopher Lawrence – Banshee (Acid Syndrome Remix)
Christopher Lawrence – Banshee (Low Profile Remix)
Christopher Lawrence – Banshee (Neos Remix)
Christopher Lawrence – Banshee (Original Mix)
Links:
Christopher Lawrence official website
Pharmacy Music official website