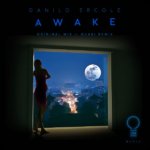 Danilo Ercole presents Awake on OHM Music
Don't rest on your laurels because Danilo Ercole has come back to OHM Music to deliver the dose of musical caffeine that your soul has been craving! Bidding the soul to come alive under the melody, sparking our bodies to move in a fully conscious state, Danilo Ercole presents "Awake", forthcoming on OHM Music, November 24, 2017!
As an eclectic dark trance tastemaker who has found his home among the artistic visionaries at OHM Music, "Awake" marks Danilo Ercole's fourth go-round on the label, landing some peak hour dynamite that will liven up even the most lethargic of hearts. Trance fans, prepare for auditory overload as "Awake" blasts out of the gate, jolting us to reality with a marathon session full of propulsive rhythm, emboldened synths, and a frisky melody that will widen the eyes and lower the inhibitions, preparing all senses for a high octane celebration of dance!
Placing his stamp on the remix, Polish producer Quasi drives the melody home with a quick detour down the Rabbit Hole, reminding us that if we are to embrace our conscious world we must be prepared to face not only the light but the dark as well. Staying true to the bold, billowing drive laid out by Danilo Ercole, Quasi amps up the intensity, with a dissonant pulse that resonates mysteriously through the airwaves, culminating in the delivery of a unique ebb and flow perfect for a late night romp among the shadows of the underworld!
As Danilo Ercole continues to stun with his unique interpretation of the darker side of trance, make sure you stay locked in with OHM Music as they continue in their quest to deliver dance floor driven mayhem from the forward-thinking artists that are helping to shape the game and deliver dance music to new heightened levels of body rocking sound inspiration!
Buy it on: TBA
Tracklist:
Trance
Danilo Ercole – Awake (Original Mix)
Danilo Ercole – Awake (Quasi Remix)
Danilo Ercole – Awake (Extended Mix)
Danilo Ercole – Awake (Quasi Extended Remix)
Links: