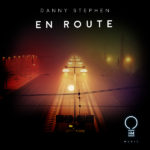 Danny Stephen presents En Route on OHM Music
OHM Music Welcomes Danny Stephen, unveiling the progressive trance beauty of 'En Route'
Woken by the magnetic pull of a dream that refuses to fade away in the dark, the driven soul has the potential to move mountains. With passion in tow, it is the true visionary that will find the strength to embark on a mission, to bring their dream to ultimate fruition. As the impossible makes way for the possible the road straightens with each and every mile traveled, in transit to a beautiful life beyond measure. This is the quest of the spirit, inspired from deep within.
Charged and ready to take his production game to the next level, dream chaser Danny Stephen finds himself in the driver's seat of an epic journey, establishing his name as a valuable player among our constantly blossoming progressive trance paradise. Forthcoming November 16, 2018 he moves in line to join the stunning array of rising OHM Music stars with 'En Route', delivering us into his world where the divine melody knows no bounds.
Saturated with the heavy pulse of gut twisting synth detail, 'En Route' opens with pinpoint focus and raw emotional expression. Met with a mystical harmony that offers up hints of mother nature's calming song we are swept up into the kingdom above to float among both angels and demons alike. As we vibrate through the atmosphere with an unbridled urgency to join hands with the sirens of the sky, the melody begins to flutter with the essence of eternal life. As we near our final destination, listen closely, as the winged creatures of the firmament can be heard exhibiting a pure hypnotic tone, pushing us forward 'En Route' to the ultimate euphoric release!
Buy it on: TBA
Tracklist:
Trance
Danny Stephen – En Route (Extended Mix)
Links: