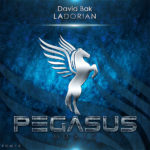 David Bak presents Ladorian on Pegasus Music
Pegasus Music is pleased to present a new energic track called Ladorian from the talented producer David Bak.
This new track from David Bak has a very driving beat, heavy kick and tech basslines, pure melodies and dreamy breakdown, amazing and hypnotizing atmosphere.
We hope you like this release as we do.
Enjoy!
Buy it on: TBA
Tracklist:
David Bak – Ladorian (Original Mix)
Links:
N/A