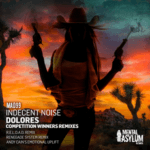 Indecent Noise presents Dolores (Competition Winners Remixes) on Mental Asylum Records
MA099 sees the three winning remixes of the recent Indecent Noise release "Dolores" hit the music stores.
With something for everyone this package delivers big time. Tech trance, hard trance, uplifting trance. It's all covered
We had many great submissions but in the end there could only be a small number of winners, three in fact, who between their talent and remixes deliver something for evey trance fan.
"Dolores" was a recent smash for label boss Indecent Noise and for release 99 on his label he gave out the oppertunity to absolutely anyone, estbalished artist or undiscovered to remix it and win a release with the label.
First up on the tech-trance front we have Argentinian duo R.E.L.O.A.D. who have been making some serious waves in the trance scene recently. We up the furiousity with Remix #2 from Hard Trance producer RENEGADE SYSTEM. Not for the faint hearted this is a stomping remix. We round of the package with a simply stunning and emotional remix from ANDY CAIN that will please the many fans of trance of prefer theres uplifting.

Buy it on: TBA
Tracklist:
Indecent Noise – Dolores (R.E.L.O.A.D. Remix)
Indecent Noise – Dolores (Renegade System Remix)
Indecent Noise – Dolores (Andy Cain Remix)