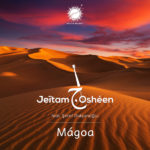 Jeitam Osheen feat. Seref Dalyanoglu presents Mágoa on Abora Recordings
Jeïtam Oshéen returns to our Abora Ascend imprint with 'Mágoa', a release featuring Turkish vocalist Seref Dalyanoglu that will leave its mark on you forever.
After wowing us with numerous emotional releases, Jeïtam somehow manages to exceed our already-high expectations by packing 'Mágoa' with emotive harmonies, empowered basslines, and a shivering breakdown. With very special vocals in Turkish, Jeïtam Oshéen manages to build up the emotions right through the climax, which explodes with energy and perfect melodies.
'Mágoa' is one of those tracks that all serious trance fans should listen to at least once in their lives in order to know the true meaning of the word 'uplifting'.
The release also includes an Intro Edit, a Radio Edit, and an Orchestral Mix, which is an extended version of the breakdown.
Lyrics (in Turkish): 'Birgün şu dünyadan göçüp gidersem'
Approximate translation: 'One day If I could pass away and leave this world'
BPM & Key:
All mixes: 138 bpm – E min (9A)
Available From Stores
Worldwide – 17th Aug 2018
Buy it on: TBA
Tracklist:
Chill Out
Jeitam Osheen feat. Seref Dalyanoglu – Mágoa (Orchestral Mix)
Trance
Jeitam Osheen feat. Seref Dalyanoglu – Mágoa (Intro Edit)
Jeitam Osheen feat. Seref Dalyanoglu – Mágoa (Original Mix)
Jeitam Osheen feat. Seref Dalyanoglu – Mágoa (Radio Edit)
Links: