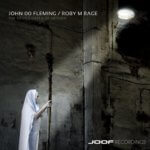 John 00 Fleming & Roby M Rage presents The Devils Gates Of Heaven on JOOF Recordings
Our fearless label founder and all round head honcho John 00 Fleming joins forces with Italian DJ and producer Roby M Rage on the dark and mysterious 'The Devils Gates Of Heaven'. Regarded with legendary status, John Fleming continues to delight with his brand of mind blowing music. He is one of the most gifted artists of a generation and his sound has graced a multitude of labels over the years.
A hard working DJ, producer and promoter, he finds himself travelling the world, gracing the decks at countless venues with open to close sets becoming a big feature on his tours. Described as a national treasure of the trance world by Radio 1's Pete Tong, John 00 Fleming is an artist who has achieved international success in a career spanning over 20 years without dishonouring his musical essence or fans.
John remains a very much respected figure on the underground scene. This is down to his integrity in his performances and his no-nonsense take on all things music. His long running JOOF and related labels continue to go from strength to strength and recently he has been sourcing some superb breakthrough up and coming artists who are proving their worth in style. Roby M Rage has been passionate about electronic music since a very young age.
In the late 80's he started DJing in different clubs, festivals and radio shows: Alter Ego, Cyber, La Scala, Syncopate, Villa Ada Festival, Rototom, Asylum, La Capannina, Dominus, Sottosopra, Imperiale, Mandrea Festival, Radio Luna and Officina 99 to name a few. He has won awards for his skills and worked on the infamous DJ Mag doing artist reviews for a time. His style of production is mainly influenced by labels such Warp, R&S, Bpitch Control, Nervous, Ninja Tune, Soma Records, Drumcode and Second State and his tracks have been making waves since 2014 with support coming in from many quarters. A welcome addition to the JOOF roster.
The Devils Gates Of Heaven is a seriously dark and twisted affair that will prove popular on the floors with its tough edged approach. We're lulled by soft swirling pads that lift the hairs on the back of your neck before being gripped by the scruff and thrown into a blizzard of pounding beats and dirty basslines.
An extremely brief respite falls on the break where we find surreal melodies that are soon engulfed by the solid dark trance groove. The second half of the track intensifies as the massive synths come into play making this an absolute beast of a track that is not to be missed.
Buy it on: TBA
Tracklist:
John 00 Fleming & Roby M Rage – The devils gates of heaven (Original Mix)
Links: