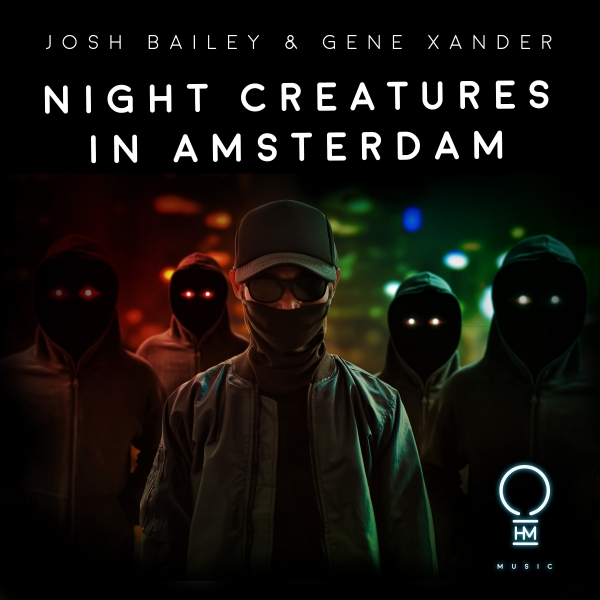 DJosh Bailey & Gene Xander presents Night Creatures In Amsterdam on OHM Music
Josh Bailey & Gene Xander Link Forces on "Night Creatures In Amsterdam", coming soon on OHM Music!
Are you craving a soundscape that lifts you from the trenches and sends you spiraling into the heavens above? Well, the time is drawing near, faithful friends. All you have to do is give in to the heightened euphoria while your senses ignite under the control of Josh Bailey and Gene Xander. Forthcoming on OHM Music, we welcome the sound-waves of "Night Creatures In Amsterdam", a next level collaboration full of depth and desire that will extract you from the mundane and set you on a trajectory that heads straight to the Venice of the North!
It is through the most honest and pure form of trance expression that we are called forth to unify on the dance floor as our inner instinct to come alive under the nights watch sets the bar for who we are as a community of underground music seekers. Josh Bailey and Gene Xander have harnessed this primal passion, speaking to our soul's inner workings with a stunning array of billowing melodic detail, sultry bassline, and extreme peak hour character that will get even the shyest of the wall flowers jumping down deep into the rabbit hole.
Ever since Josh Bailey hit us deep in the feels with the tornadic energy of "Jaiya" the OHM Music family has been chomping at the bit to get their hands on more from this trance music mainstay. Throw in boundary breaking San Francisco producer Gene Xander, the rising star that brought us the power drenched stylings of "Final Contact" on Perfecto Records, and suddenly we have found an eclectic recipe for unadulterated dance floor rapture that we surely can't get enough of! Keep your eyes and ears planted firmly on OHM Music as "Night Creatures In Amsterdam" is on a fast track to a speaker near you!
Buy it on: TBA
Tracklist:
Josh Bailey & Gene Xander – Night Creatures In Amsterdam (Original Mix)
Links: