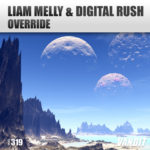 Liam Melly and Digital Rush presents Overrive on Vandit Records
We must chose to override our fears to pursue our passions.
This quote by Jeff Spires might be the inspiration behind Liam Melly & Digital Rush's new single OVERRIDE. It's passionate, driving sounds will open every trance fans ears and heart.
Buy it on: TBA
Tracklist:
Liam Melly & Digital Rush – Overrive (Original Mix)
Links: