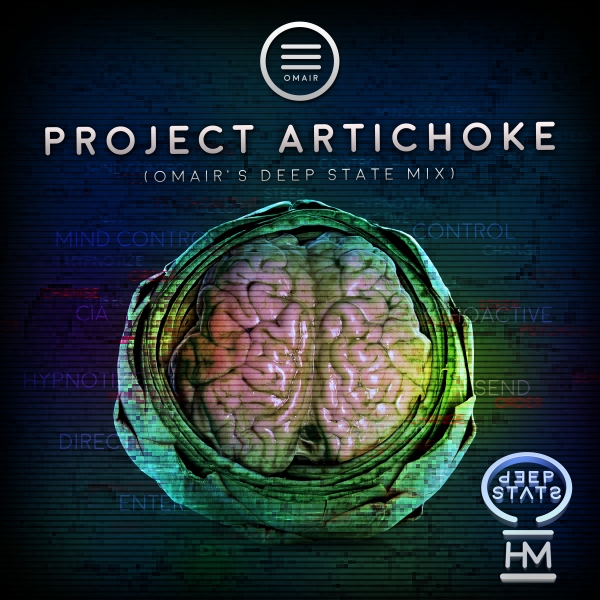 OMAIR – Project Artichoke (OMAIR'S Deep State Mix) on OHM Deep State
It is time to cast your gaze on the next hair raising layer of OHM Deep State with OMAIR's "Project Artichoke"…
As we are still reeling from the side-winding depth of OMAIR's "Marianna's Web" and the orchestral groove of Avigate's "Fading", the brooding character of OHM Deep State begins to materialize before our eyes. Soon we will be invited to experience the conceptual madness once more as OMAIR prepares for the unveiling of "Project Artichoke", a dazzling selection for OHM Deep State. After shaking off the cryptic insanity born from our harrowing journey into the shadowy crevices of the dark web it is now time to further embrace the taboo with a glimpse into a world wrought with calculated mind control.
Picture this: Intelligence agencies coming together to develop a program that uses mind-altering chemicals and hypnosis as an interrogation tactic, altering the mental state of their victims as they try to extract sensitive information. Sounds like something plucked straight out of the silver screen, doesn't it? But in the early 1950s, Project ARTICHOKE would set in motion a wildly controversial plan to subdue the enemy through intense intoxication, resulting in the persuasion to do our bidding.
Not one to ever back down from taking on political platforms of the dark variety, OMAIR harnesses the guttural clash of right vs wrong with "Project Artichoke". As the soundscape unfolds, we begin to lose all sense of human stability as the melody brews like a threatening storm on the horizon. Paying homage to the electrified rises and dips set in place by "Marianna's Web", "Project Artichoke" pushes the energy one step forward with elongated valleys of tonal upsurge, building the intensity as we wrap our minds around the raw psychosis felt by Project ARTICHOKE's unsuspecting subjects.
Warning: It is imperative that you stay focused on your surroundings because with just one listen, you too may be captured by the hypnotic effect far too powerful to deny!
Buy it on: TBA
Tracklist:
OMAIR – Project Artichoke (OMAIR'S Deep State Mix)
Links:
N/A