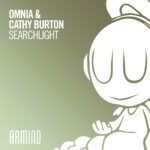 Omnia feat. Cathy Burton presents Searchlight on A State Of Trance / Armada Music
Easily one of the most captivating cuts from the hand of Ukrainian star Omnia, 'Searchlight' is as melodically unmatched as it is energetic. Spotlighting Cathy Burton's luminous vocals alongside a thumping bassline and riveting chord progressions, 'Searchlight' supplies you with the sonic magic that makes life worthwhile.
Buy it on:
More links to download the track
Tracklist:
Omnia feat. Cathy Burton – Searchlight (Original Mix)
Artist: Omnia Feat. Cathy Burton
Track: Searchlight
Label: ASOT
Release date: OUT NOW!!
Links:
Omnia official website
Armada Music official website