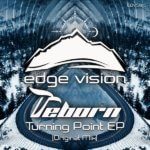 Reborn presents Turning Point EP on Edge Vision / Abora Recordings
Edge Vision proudly presents 'Turning Point', a unique EP from Iranian rising producer Reborn.
'Turning Point' consists of two solo tracks, each telling an epic story with lots of psychedelic sounds, crazy atmospheres, driving baselines, and powerful energy emphasized by well-crafted melodies and sound design.
Enjoy this dancefloor killer!
Key:
Turning Point : G major
Stranger : E major
Available From Stores
Beatport, LLC – 15th Jan 2018
Everywhere – 29th Jan 2018
Buy it on: TBA
Tracklist:
Trance
Reborn – Turning Point (Original Mix)
Reborn – Stranger (Original Mix)
Links: