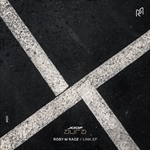 Roby M Rage presents Link EP on JOOF Aura
Eyes forward, sit up in your seat, and fix your collar – we're about to take a class in the elegance of techno, lectured by Roby M Rage. Acidic stabs, earth-shattering drums, and fierce rolling basslines; these three core elements are the embodiment of dance-floor driven, heads-down techno.
If we dazzle such techno with a hint of fervent atmosphere, we are presented with the Link EP. Just before the bell goes, make sure you revise the rhythm of Roby M Rage. Class dismissed.
Buy it on: TBA
Tracklist:
1. Roby M Rage – Sunrise Comes (Original Mix)
2. Roby M Rage – Rolling (Original Mix)
3. Roby M Rage – Sexy (Original Mix)
Links:
N/A