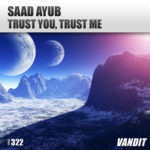 Saad Ayub presents Trust You, Trust Me on Vandit Records
Saad Ayub has been on our radar ever since his collab with Ronski Speed 'Crazy Whisper' last year.
Saad knows, quality trance is best served hot and he knows how to cook em up! That's why we're excited to bring to you today 'Trust You, Trust Me' – and trust us, there's more to come!
Buy it on: TBA
Tracklist:
Saad Ayub – Trust You, Trust Me
Links: