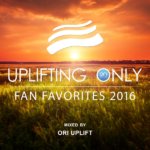 Various Artists presents Uplifting Only: Fan Favorites 2016 mixed by Ori Uplift on Abora Recordings
It's that time of year again! Here is a new edition of fan-voted favorites in orchestral & emotional uplifting trance! This mixcompilation contains 23 tunes (or edits thereof) that won the weekly Fan Favorite vote through 2016 on Ori Uplift's Uplifting Only radio podcast aired on DI.fm, iTunes, & Spotify. It also contains 2 continuous mixes, for a total of 25 tracks.
None of these tracks have previously been released on any previous UpOnly mixcompilation in these versions before! So even if you've bought all previous mixcomps, there's no repetition here.
The definitive show for orchestral uplifting trance, Uplifting Only airs on 55 radio stations around the world and has been named the #6 & #8 trance radio show in the 2015 & 2014 Trance Podium Awards. Three of its mixcompilations have reached the #1 spot on Beatport charts.
The release contains 18 fully dj-mixable tracks and 5 radio edits in addition to the mixes. Four of the radio edits have not been anywhere previously released.
Music from SoundLift, illitheas, Andy Blueman, Afternova, Simon O'Shine, Etasonic, New World, Geert Huinink, Type 41, Ikerya Project, Sound Apparel, InnerSync, Plutian, Emanuele Congeddu, Sergey Shabanov, Nikolauss, & more. Your favorite uplifting producers are here!
Buy it on: TBA
Tracklist:
PART 1:
1. illitheas & Johannes Fischer – Tears of Hope (Intro Mix)
2. Sergey Nevone & Simon O'Shine – In Spite Of Everything (Radio Edit)
3. SoundLift – Long Way Back
4. Afternova – We Were Meant To Be
5. Afternova – Together We Are Strong (Manuel Rocca Remix)
6. Andy Blueman – Cloudland (Original 2003 Mix)
7. Etasonic – Tears for You (Radio Edit)
8. Emanuele Congeddu & 4Seas – Butterfly Effect (Etasonic Radio Edit)
9. New World & Geert Huinink – Empyrean (Radio Edit)
10. Type 41 – Heiwa (Original Mix Edit)
11. Plutian – Jirisan
PART 2:
1. Andy Blueman – Florescence (Intro Mix)
2. Type 41 feat. Goshen Sai – Never Looking Back (Euphoric Dub)
3. Hadrianicus – Quantum Of The Seas
4. Arrakeen – Goodbye My Friend
5. Nikolauss – Valley Of The Kings (Sergey Shabanov Remix)
6. InnerSync feat. Samantha Star – Dancing To Be Free
7. Ikerya Project – World Beauty
8. Sound Apparel – The Red Baron
9. Carlos De la Garza – Freedom (Original Mix Edit)
10. Marcprest & Volmax Feat. Aylin Aloski – Eternal Love
11. SoundLift – Sevan (Radio Edit)
12. Melodic Culture feat Magdalen Silvestra – Way of Light (InnerSync Remix)
CONTINUOUS MIXES:
24. Ori Uplift – Uplifting Only: Fan Favorites 2016 (Continuous DJ Mix Pt. 1)
25. Ori Uplift – Uplifting Only: Fan Favorites 2016 (Continuous DJ Mix Pt. 2)
Links: