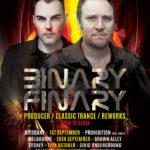 Binary Finary – Open to Close 5 Cities Australia Tour
Open to Close 6 Hour Sets in 5 Cities.
Trance Central is hitting the road with Binary Finary for their 2nd Australian Open To Close event series. Full of Classic Trance Anthems, Binary Finary Reworks and Remixes as well as tracks from their forthcoming Artist Album. This tour will see them smash a 6 hour set in 5 cities across Australia.
Every aspect of this tour has been personally put together by Stuart and Sasha from the Artwork design, the venue, flights, social media campaigns and posts, hotel or lack of hotels due to their Fly in Fly out lifestyle and of course the music that you will hear. So all in all a massive effort to bring to you another special night.
Tickets for each event are located on the buttons below. We have kept this event to a standard price across each city, so well worth the $25.
Tickets
Brisbane
Melbourne
Sydney
Adelaide
Perth
CONNECT WITH BINARY FINARY:
CONNECT WITH TRANCE CENTRAL:

Links:
Binary Finary official website
Trance Central official website